What is pulmonary embolism?
A pulmonary embolism is a blockage in one of the pulmonary arteries in your lungs. Pulmonary embolism is caused by blood clots that migrate to the lungs from deep veins in the legs or, in rare cases, veins in other sections of the body (deep vein thrombosis).
Because the clots impede blood flow to the lungs, pulmonary embolism is life-threatening. On the other hand, prompt treatment dramatically reduces the risk of death. You can avoid pulmonary embolism by taking care to avoid blood clots in your legs.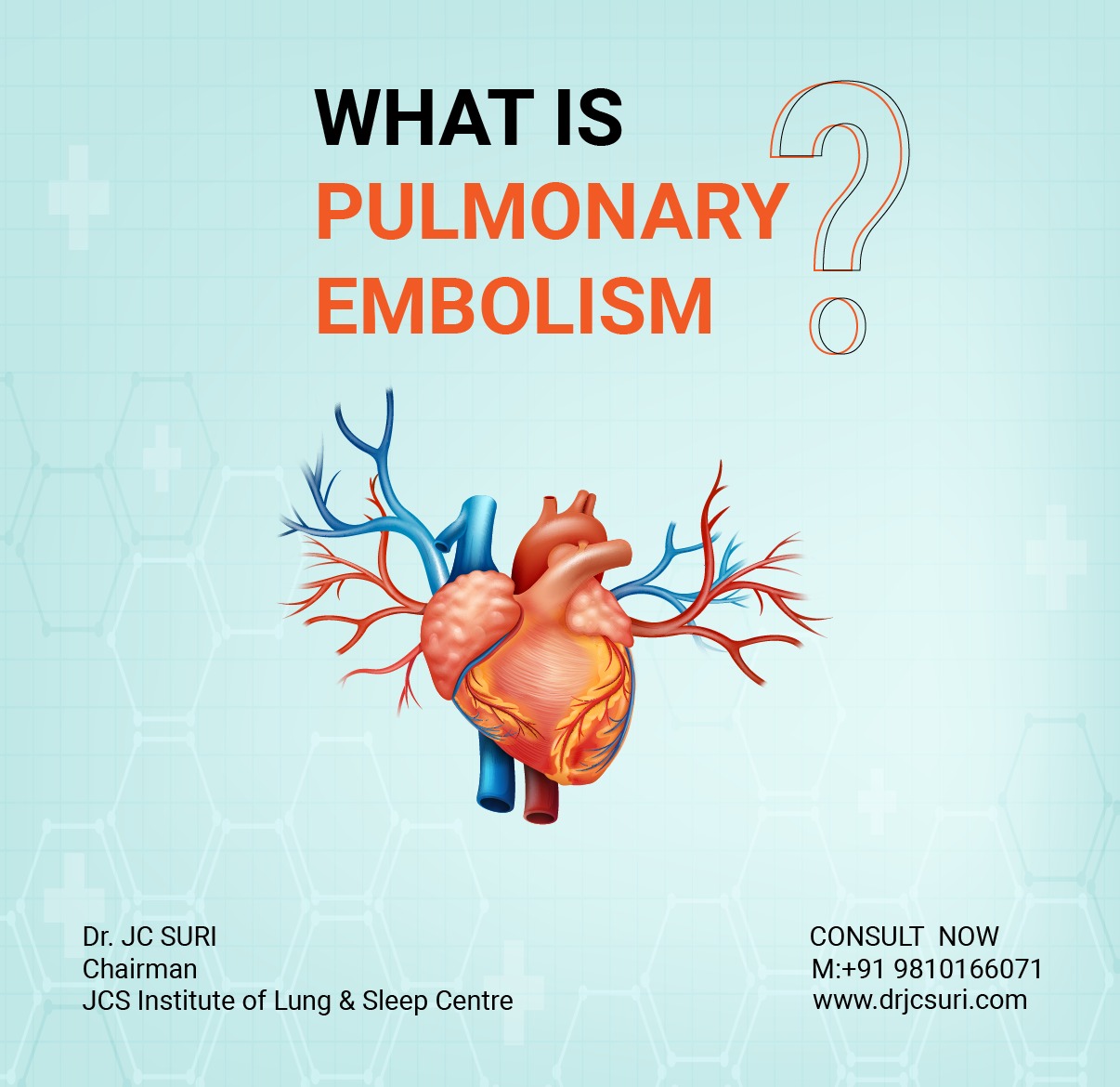 SYMPTOMS OF PULMONARY EMBOLISM
Depending on how much of your lung is affected, the size of the clots, and if you have underlying lung or heart problems, pulmonary embolism symptoms can vary greatly.
The following are some of the most common indications and symptoms:
Breathing problems- This ailment usually occurs out of nowhere and worsens with exertion.
Chest Pain- You may feel as if you're experiencing a heart attack. When you take a deep breath, the pain is typically severe and intense, preventing you from taking a deep breath. When you cough, bend, or squat, you can also feel it.
Cough- Sputum may be bloody or blood-streaked as a result of the cough.
Excessive sweating
Fever
Dizziness
Irregular heartbeats
CAUSES OF PULMONARY EMBOLISM
Pulmonary embolism occurs when a clump of material, most commonly a blood clot, becomes lodged in an artery in your lungs. DVT (deep vein thrombosis) is a condition in which blood clots form in the legs' deep veins (DVT).
Pulmonary embolism frequently involves several clots. Each clogged artery robs parts of the lung of oxygen and nutrients, leading them to die. The medical name for this is pulmonary infarction. As a result, your lungs will have a harder time giving oxygen to the rest of your body.
Blood artery blockages can be caused by a variety of factors other than blood clots, including:
Fat from a shattered long bone's marrow
A section of a tumor
Bubbles of air
RISK FACTOR
Smoking– Tobacco smoking predisposes some persons to blood clot formation for unknown reasons.
Being overweight is a problem- Blood clots are more likely in people who are overweight.
Pregnancy- Blood flow from the legs can be slowed by the weight of the baby pressing on veins in the pelvic. When blood slows or pools, clots are more likely to form.
TREATMENTS
Heart disease- Clot development is more prevalent in those with cardiovascular illness, particularly heart failure.
Coronavirus disease 2019 (COVID-19)- People who have severe symptoms of COVID-19 have an increased risk of pulmonary embolism.
Cancer- Tumors of the brain, ovary, pancreas, colon, stomach, lung, and kidney, as well as cancers that have spread, can increase the risk of blood clots, which is exacerbated by chemotherapy. Women who take tamoxifen or raloxifene and have a personal or family history of breast cancer are at an increased risk of blood clots.
Surgery- One of the most common causes of blood clots is surgery. As a result, anticoagulant medicine may be prescribed before and after major surgery, such as joint replacement.
PREVENTION
Preventing clots in the deep veins in your legs (deep vein thrombosis) will help prevent pulmonary embolism. For this reason, most hospitals are aggressive about taking measures to prevent blood clots, including:
Blood thinners (anticoagulants)- People at risk of clotting, as well as people admitted to the hospital with medical illnesses like heart attack, stroke, or cancer complications, are frequently given these drugs before and after an operation.
Compression stockings-  Compression stockings apply constant pressure to your legs, assisting your veins and leg muscles in moving blood more efficiently. They provide a safe, easy, and low-cost method of preventing blood stagnation during and after general surgery.
Leg elevation- Elevating your legs as much as possible, especially at night, might be very beneficial. Blocks or books can be used to raise the bottom of your bed 4 to 6 inches (10 to 15 cm).
Physical activity- Moving as soon as possible after surgery will help you avoid a pulmonary embolism and speed up your recovery. This is one of the key reasons your nurse may encourage you to get up and move even though you are in pain at the surgical incision site.
Pneumatic compression- This therapy uses thigh-high or calf-high cuffs that inflate and deflate automatically every few minutes to massage and constrict your legs' veins and enhance blood flow.